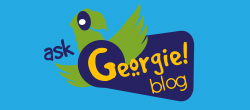 Join our community of animal lovers to share stories, tips
and experiences.
Adopters receive great promotional benefits including big savings and freebies from our partners: PETCO and PetSmart.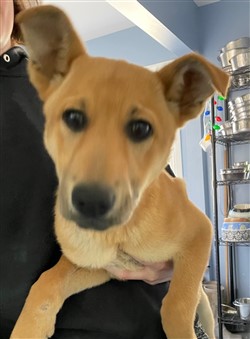 Age: 4 months
Breed: Mixed Cutie Pie
Zelda is a little mixed breed dog approximately 4 months of age. She was adopted to a person in Dutchess County, NY through an organization from Tennessee. This is a good example of why adopting from a local, reputable organization is so important. The adopter had a dog and Zelda was transported to the adopter without the existing dog meeting the new puppy. Well, the existing dog did not welcome the puppy and for the pup's safety, she was surrendered to the Hudson Valley Humane Society. Zelda is absolutely darling, a mixed breed of multiple generations. She has been spayed, is vaccinated, microchipped and ready to find a family to call her own. Only those with traditional fenced yards should apply for this little girl. No phone calls please. Instead, email us at: HVHSSTAFF@GMAIL.com and type "Zelda" in the subject line. Thank you!
Age: 14 months
Breed: Rottie
Meet "Buddy" our 14-month old male Rottweiler who was a victim of abuse and neglect. The individual who owned Buddy has been charged with animal cruelty. This is why. Last summer, HVHS Humane Law Enforcement Officers were dispatched to investigate the complaint of a dog left in a crate on a deck in direct sunlight. We found Buddy closed in a wire crate as described, and without water, unable to avoid the direct sun and heat. The Officers also discovered that Buddy was wearing a chain-link collar sized for him as a young puppy. It was never removed as he grew. As a result, Buddy's chain-link collar embedded into his neck more than half the circumference of his neck. His wound was malodorous and obviously infected. HVHS Officers seized him and sought immediate medical attention. The wound was extremely painful for Buddy and the collar could only be removed under sedation by a veterinarian. During Buddy's recovery, we formed the opinion that the former owner (and/or someone else who had access to him) also hit Buddy because he goes flat to the floor in a submissive posture when initially approached. Now several months later, we happily announce that Buddy is entirely healed and seeks a compassionate person, preferably with large dog experience, to adopt him. He has a sweet demeanor and is full of energy. Buddy needs a home with a secure, fenced yard. Interested? Email us at HVHSNY@optonline.net -- no calls please, thank you.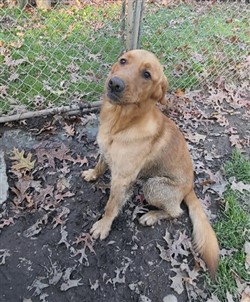 Age: <2 years
Breed: Golden Retreiver
***ADOPTION PENDING*** Jack is a classic Golden who loves to play, adores people, is full of life with a great personality. Jack was surrendered by his person who realized he did not have the financial means to properly care for him. He has been neutered, fully vaccinated, microchipped and seeks a home with a traditionally fenced in yard. Interested? Please email us at HVHSSTAFF@gmail.com no phone calls please, thank you.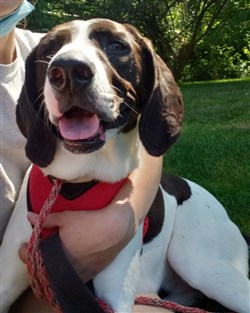 Age: 3 years
Breed: Pointer/Hound Mix
Lexi is a Pointer/Hound Mix approximately 65#. She is liver (reddish brown) and white. This is a high energy, good family dog, and Lexi prefers to be the only dog. Fenced yard absolutely necessary, no exceptions.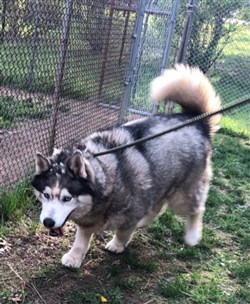 This beautiful boy is also an adult male Husky from a cruelty case where he was seized from a private house where they had 22 alive dogs and at at least 14 deceased. We estimate his age at +/- 5 years.