Join our community of animal lovers to share stories, tips
and experiences.
Adopters receive great promotional benefits including big savings and freebies from our partners: PETCO and PetSmart.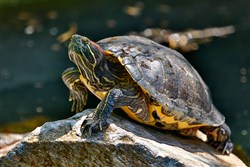 Age: 5 Years
Breed: Red Eared Slider Turtle
Alex is a red-eared slider looking for a fish tank to call his own. Serious turtle people please give this guy the home of his dreams.