Join our community of animal lovers to share stories, tips
and experiences.
Adopters receive great promotional benefits including big savings and freebies from our partners: PETCO and PetSmart.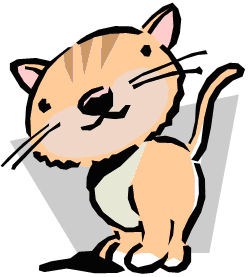 Age: 5 months
Breed: Domestic short hair - black
Shrimp came to the HVHS months ago as a tiny kitten with the worst case of ringworm our vet has ever seen. She has been dipped, bathed, moussed, you name it to completely eradicate the fungus. She is ringworm free. And because of all the handling and care she received, she is the most docile kitten anyone could meet. Spayed, vaccinated and microchipped, "SHRIMP" is ready to go home. Could it be with you? She is a domestic short hair, all black kitten.
Age: Babies
Breed: Variety of kittens (short, medium and long hair)
We have oodles of adorable kittens who are currently too young for adoption. Watch our website and our Facebook page for pictures of these cuties. The HVHS will adopt only when our kittens weigh 3# and have a valid rabies vaccine; we will not adopt without the rabies for everyone's safety.