Join our community of animal lovers to share stories, tips
and experiences.
Adopters receive great promotional benefits including big savings and freebies from our partners: PETCO and PetSmart.
Age: 5 months
Breed: DSH orange and white
Female orange and white kitten. Spayed, vaccinated, de-wormed and FIV/AIDS/LEUK negative. Statistics indicate that only 1 in 27 orange and white kittens are female and she's a cutie pie.
Age: 10-12 months
Breed: DSH
All white, DSH female feline approximately 10-12 months of age. She has been spayed, is micro chipped, up-to-date on vaccines and FIV/AIDS/LEUK "negative". Super friendly!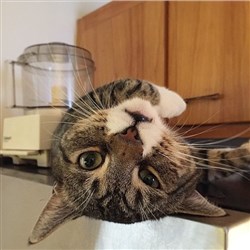 Age: Adult
Breed: DSH - Tabby
This is a courtesy post for Sunny's owner who needs to re-home this cutie. If you are interested please contact Eric at 914-309-4958. Sunny is up-to-date on vaccines, neutered and from the pictures looks like quite the character!