Join our community of animal lovers to share stories, tips
and experiences.
Adopters receive great promotional benefits including big savings and freebies from our partners: PETCO and PetSmart.
Age: 3 years
Breed: Shep mix
This is a shep mix, large dog approximately 90#. He is great with people, but not with dogs. TATU is a gentleman who came to us from southern states and was heartworm positive; we have since treated him and eradicated the HW. He is ready to go home where there is a secure, fenced-in yard. No toddlers please as he would easily knock them over. Teenagers and adults in the household is optimal.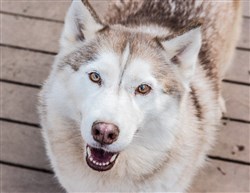 Age: 3-5 years
Breed: Husky
This is another female red Husky, also fully vetted including microchip. She also would be best as an only dog and definitely needs a traditional fenced in yard.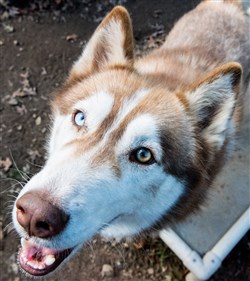 Age: 3-5 years
Breed: Husky
This is a female Husky approximately 3-5 years of age. Fully vetted, microchipped and housetrained to our schedule, but will need to adjust to yours. She is a great dog, good with people of all ages, but is very selective about other dogs. She would need to be the only dog and a fenced-in yard is a must!
Age: 4-5 years
Breed: Husky
Female Husky, approximately 4-5 years of age, fully vaccinated, spayed, microchipped, etc. Great with people of all ages. Walks very nicely on a harness and would make a great companion. She knows to go outside and is on our schedule for "potty" but will need to adjust to yours which we anticipate would be easy.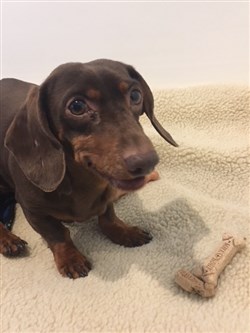 Age: 3-4 years
Breed: Dachshund
Male Dachshund, neutered, vaccinated, dewormed, microchipped. Teddy is cute as can be. Doxies are wonderful companion pets. He protects his toys, so we recommend him as an only Doxie.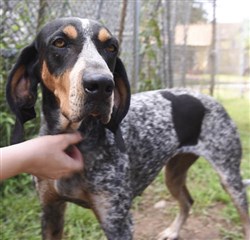 Age: 2 years
Breed: Blue Tick Coonhound
***ADOPTION PENDING*** This divine girl is a Blue Tick Coonhound. She is spayed, vaccinated, microchipped, de-wormed and looking for a safe home. She is a climber and needs a secure fenced-in yard (not chainlink she can climb that type). This is a very sweet dog.