Join our community of animal lovers to share stories, tips
and experiences.
Adopters receive great promotional benefits including big savings and freebies from our partners: PETCO and PetSmart.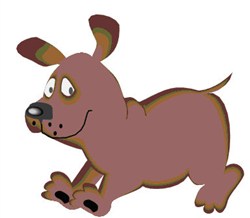 This lovely girl is as lady-like and delightful as her name suggests. She also came from the cruelty case where the HVHS seized 22 adult Husky dogs from a location. Lady Dior is just charming with people of all ages and with other dogs (even little ones). When we first brought Lady Dior to our facility she was suffering with skin infections, fleas, flea bite dermatitis, fungal infections, hair loss and overall itchy conditions. It turns out that she has allergies which have had great results on a prescription food. With supportive care this girl has turned around and blossomed into the beauty that she is today. Lady Dior would make a great companion pet.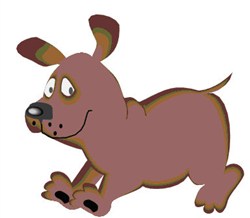 "Uno" was the 1st dog removed from an animal hoarding case where they had 22 Husky dogs in a small house. He was a mess. Mostly bald from flea bite dermatitis, skin infections, fungal infections, filthy conditions, you name it! He was also really grumpy because he was painful. It turned out that he had a large mass in his abdomen that was easily discovered at our first veterinary visit with him. The vet palpated his tummy and knew something was wrong. His testicles never dropped and this guy developed a tumor the size of an orange and had been living like that for at least 6 years. His surgery was a huge success, his coat is now magnificent and he is one happy camper looking for a couch to call his own. Could he be the "one" for you?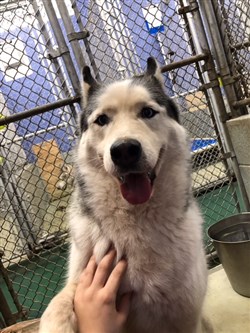 Age: Young adult
Breed: Husky
Yep you guessed it ... if you have read Six Pack's bio then you can tell by this guys name that he was the 6th dog of 22 dogs removed from a location last summer.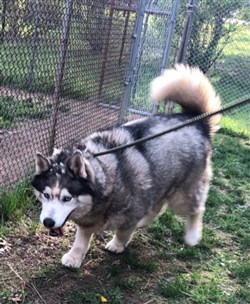 This beautiful boy is also an adult male Husky from a cruelty case where he was seized from a location the summer of 2017. We estimate his age at <5 years. "Six Pack" was the 6th of 22 dogs removed and that's how he was given his name. Maybe he does sit ups when we aren't looking to work on his abs!
Age: Young adult
Breed: Husky
This majestic boy is super special. He is a magnificent example of the breed and is lots of fun. His tail never stops wagging and playing is his #1 past time.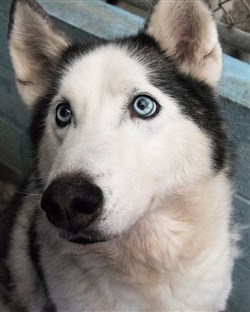 "Forest" has the most enviable blue eyes on the planet. He is a bit reserved when meeting new people and is a really good boy. His life before coming to the HVHS was difficult for sure; we seek an adopter with a safe, secure fenced in yard. Forest's age is unknown but we think he is a mature adult. All vaccines, de-worming, neutered, microchipped and dentistry has been completed. If you are interested in adopting him please email us at HVHSNY@optonline.net and type "Forest" in the subject line. Thank you! (We have 14 Huskies and Husky-mixes looking for a loving home.)
Age: 3 years
Breed: Shep mix
This is a shep mix, large dog approximately 90#. He is great with people, but not with dogs. TATU is a gentleman who came to us from southern states and was heartworm positive; we have since treated him and eradicated the HW. He is ready to go home where there is a secure, fenced-in yard. No toddlers please as he would easily knock them over. Teenagers and adults in the household is optimal.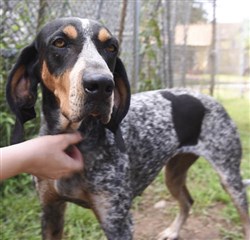 Age: 2 years
Breed: Blue Tick Coonhound
This divine girl is a Blue Tick Coonhound. She is spayed, vaccinated, microchipped, de-wormed and looking for a safe home. She is a climber and needs a secure fenced-in yard (not chainlink she can climb that type). This is a very sweet dog; needs to be the only dog and if you have this girl you would not need another!