Join our community of animal lovers to share stories, tips
and experiences.
Adopters receive great promotional benefits including big savings and freebies from our partners: PETCO and PetSmart.
Age: <6 months
Breed: Domestic Short Hair
Shelly is a 3-legged kitten we transferred from a municipal shelter on Long Island. She is <6 months of age, spayed, FIV/AIDS/LEUK negative, microchipped, and fully vaccinated. She can be a little crabby, but if you like to share your heart with a special needs individual, this girl is for you.
Age: Kittens
Breed: Variety of kittens (short, medium and long hair)
We have oodles of adorable kittens eligible for adoption. The HVHS will adopt only when our kittens weigh a minimum of 3# at which time they are eligible to receive a valid rabies vaccine,. Additionally, we spay/neuter at that stage. Our felines are dewormed, vaccinated, are free off zoonotic illnesses and are microchipped (lifetime enrollment).
Age: Young adult
Breed: Finch
We have a darling Finch available for adoption. This is a tiny bird who is a delightful pet and easy-to-care-for.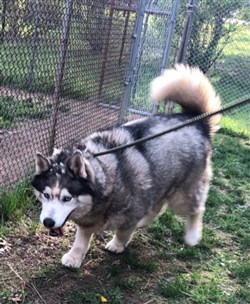 This beautiful boy is also an adult male Husky from a cruelty case where he was seized from a private house where they had 22 alive dogs and at at least 14 deceased. We estimate his age at +/- 5 years.